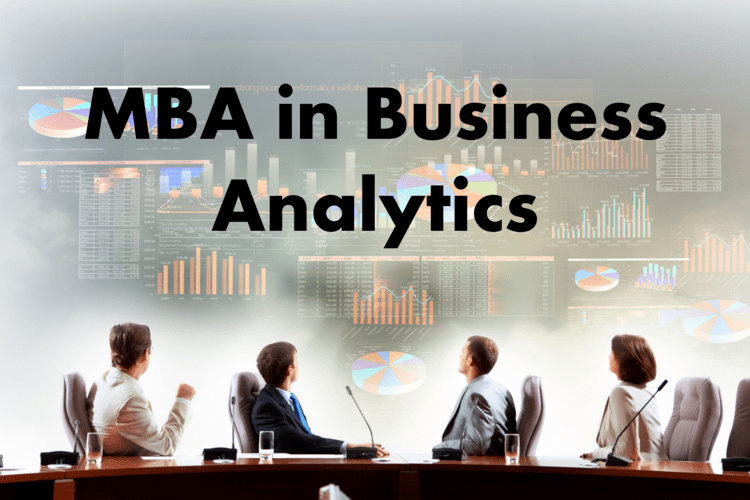 Business Analytics can help in using vital statistical data with different approaches to providing essential ideas and insights regarding business administration. This can be useful to students who want to work with loads of data and maintain a proper balance between technical aspects and business issues. Various jobs in the world take in people who can check, sort, and analyze large business data and provide essential business choices according to the data. Individuals can get relevant technical knowledge by pursuing a career in business analytics and pose proper business administration with the same.
Various career alternatives for pursuing MBA in Business Analytics
There are various career alternatives for pursuing an MBA degree in Business Analytics. A few of the important ones are provided below for the readers to look at.
Position for Business Analyst
With the help of Data Analysis, Business analysts can help organizations in challenging and providing solutions for problems. It can help individuals and companies improve their products, policies, and even their systems.
Position for Data Analyst
Data Analysts can help in getting different data from the relevant sources and check for vulnerabilities in them. These analysts can check for different information and can even delete duplicated content within. All these data are then properly uploaded over database management systems like SQL, Microsoft Access, or even over excel sheets.
Position for Financial Analyst
The main function of a Financial Analyst is to look for efficient utilization of the funds. Proper market trends, demographics, and even financial deals are checked and analyzed to provide proper analytics over the finances and funds.
Position for a Supply Chain Analyst
A Supply Chain Analyst can help in checking and managing the supply chains in the company. A Supply Chain Analyst can check issues within the current logistic processes and provide essential insights to increase efficiency. Moreover, their job roles tend to check the working procedure of the supply chains and provide essential improvements in case of any.
Position for a Marketing Analyst
The essential role of a Marketing Analyst from BIMS, the best institute for MBA in Kolkata, is to look into the marketing and sales part and provide essential ideas and insights of selling products and items to customers. Marketing Analysts can also look into different data regarding marketing and sales and come up with the best marketing strategies and techniques.
Position for a Data Scientist
The work of a Data Scientist is to check huge volumes of data and find intricate issues regarding the data and codes ascertained. These Data Scientists can utilize codes and algorithms to reveal information from the data. Many technical skills are needed for this which can consist of AI and ML. Other important computer-related concepts like databases and data structures should also be studied for proper knowledge of the field.
In a Nutshell These are a few important career alternatives for pursuing MBA in Business Analytics. Individuals can check for the different MBA courses available at BIMS, the Top MBA college in Kolkata, for extensive knowledge regarding different business administration concepts.