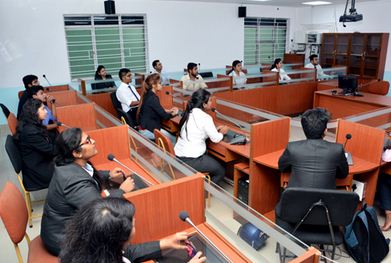 Among the hundreds of business schools situated in Kolkata, it is rather difficult to choose the management school that satisfies all the criteria of being the top b school in Kolkata. We at Bharatiya Vidya Bhavan can boast of being one of the premier institutes of business studies that has it all to make it one of the top management colleges in Kolkata.
The salient aspect of Bharatiya Vidya Bhavan Institute of Management Services.
With more than two decades of experience in imparting quality education to business studies aspirants, we offer both the three years coarse BBA degree, and the two-year MBA degree. Our MBA degree course is affiliated with Maula Abul Kalam Azad University of Technology (MAKAUT) and has been approved by the All India Council for Technical Education, which guarantees a benchmark of standard in imparting knowledge in business studies.
With the passage of time, the nature of business has undergone a sea change, and likewise, we have updated our course to impart the right kind of course material, both in the theoretical and practical aspects of business studies. For instance, our MBA course consists of four semesters, the first two semesters are dedicated to the studies of core subjects, while in the third and fourth semesters you can choose your specialization from Marketing, Human Resource, and Finance. Moreover, to be more adept to the growing competition, we offer dual specialization on any two of the specialization subjects.
As one of the top business schools in Kolkata, we at Bharatiya Vidya Bhavan Institute of management services are proud of our campus placements in the top multinational companies both in India and abroad. We have a record placement, with successful degree holders getting the dream job without much hassle. Moreover, we provide field studies to the students, to make them experience real-life situation at work in the industry.
There are many MBA colleges in Kolkata, but very few actually expose the students to the nuances of the industry and the nature of business studies as it keeps changing with time. The attitude and application of the knowledge imparted at the top mba colleges in Kolkata, like Bharatiya Vidya Bhavan Institute of Management Services, makes the student industry-fit, and industry-wise so that they never face a problem in landing upon a suitable job. With years of experience and a good name created by imparting quality education in management studies, we strive to be even better, by adapting to the ever-changing scenario of business studies. We have created the right kind of ripple in the industry so that a degree holder from our institute would never have a problem in getting the job he or she is aspiring to.